Discover more from Visually AI by Heather Cooper
Your weekly dose of AI news, tools, and innovation with a visual twist. Breaking down barriers to make AI content creation accessible to all.
Over 7,000 subscribers
Total reading time is about 6 minutes.
Welcome to Visually AI!
This was an extremely heavy week of news in the world of generative AI, but I am focusing on GPTs from ChatGPT in this edition. Feel free to skim through to other sections, including tools.
I have several links to GPTs you might find useful, too.
🔮AI News This Week
💻 OpenAI Dev Day
OpenAI's Dev Day started the week with tons of new features available.
They introduced GPTs - custom versions of ChatGPT to combine instructions, skills, and knowledge to perform any task you can think of:
Creating your own GPT is straightforward and doesn't require any coding or app design skills.
A tool called "GPT builder" guides you through the process. It works by asking you questions about your project and offering suggestions to shape your GPT.
The process is interactive: you'll engage in a dialogue with the GPT builder, directing its next steps through your responses.
Once your GPT is ready, you have options for how to share it. You can keep it private, share it through a specific link, or make it publicly available.
If you opt for public availability, there's an exciting opportunity coming up. OpenAI plans to launch a GPT store, similar to an app store, where your GPT could be featured for others to discover and use.
👩‍💻 How to Make a GPT You Can Use
Choosing the right type of GPT to make can feel tough. Here are some simple tips to help you out:
Find a Problem to Solve: Think about how you use ChatGPT. What task could it make easier for you? For example, I use it to quickly find keywords and ideas. You can do something similar.

Use What You Already Have: Got any lists, emails, or research? Add these to your GPT to make it smarter and more helpful.

Decide How It Should Talk: Think about how you want your GPT to communicate with you. Should it ask you questions, or just give you straight answers? Decide this before you start.

Pick How You Want Answers: How should your GPT present information? In tables, lists, or some other way? You can even add images using DALL•E.

It Doesn't Have to Be Perfect: Remember, you can always make changes later. Don't stress about getting everything right the first time.

Keep Improving It: You can always add more to your GPT later. Keep tweaking it to suit your needs.

Get Inspired: Check out other GPTs for ideas. There are many out there, and each one might give you a new idea.
👉 Watch this How-To Video
My friend, Keith Hayden, recorded a video of his GPT creation workflow. It's for anyone with or without ChatGPT experience.
Take a look and see how simple it is! Keith has time-saving tips to streamline the process:
---
I've been focusing on making cool action scene ideas that include cars and motorcycles.
My goal was to simplify how you get a bunch of these scene ideas, especially about different vehicles, places, and styles. This was a quick, unplanned project, so I'll be tweaking it a lot later!
I let ChatGPT pick out a name and used DALL•E3 for a cool profile picture for my GPT. It's called "Cinematic Wheels Prompter," and it's great at coming up with exciting vehicle scene ideas.
Below, you'll find the main page and a sample of what my GPT can do: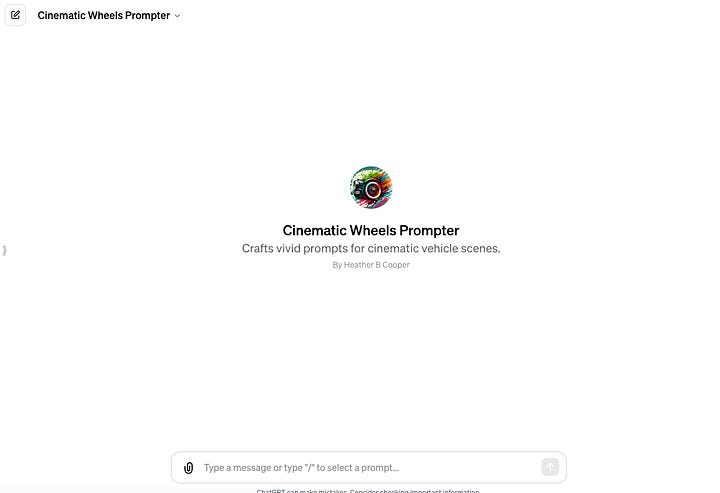 You can get an idea of how it works, and ChatGPT Plus users can try my Cinematic Wheels Prompter here.
Here's a quick demo:
---
🏁 GPTs you can try right now:
There are GPTs being created every minute, but I made a list of some I've tried, including one of my own:
Video Spark: This is my second GPT, and it creates casual-toned video ideas and shot lists in table format. (link)
DesignerGPT: Creates and hosts beautiful websites. (link)
DungeonMasterGPT: I craft D&D tales with wit and peril! (link)
iOS App Builder: Expert Swift coder for iOS & iPadOS apps. (link)
Sparkle: The Storybook Maker: Your personal guide from story inception to published book. (link)
OpenStorytelling Plus: Screenplay Writing Guide w/ Screenplay Examples. (link)
Art Mentor: Art educator with image-enhanced quizzes. (link)
Photography Prompt Builder: Imagine the scene and CHATGPT will make it. (link)
LifeAlign.ai: Turn your goals into actionable plans with measurable metrics, then export time blocks directly to your calendar. Trained on expert advice, timeless best practices, and the latest in science & psychology. (link)
Photo Realist: Crafts hyper-realistic photos with professional camera precision. (link)
Dream Weaver: Creates high-res, magical characters with unique names. (link)
FamSocial: DreamMaker: Make a scene from your favorite PFPs! 👀🕳️🐇Upload images, choose key traits, scene and style and let FamSocial bring your dreams to life. (link)
AI Conference and Travel Guide: Customized guide with integrated AI conference resources. (link)
---
🌐 Weekly Generative AI Recap 𝕏 Space
We covered several of the latest news topics at my weekly Generative AI Recap 𝕏 Space, with my regular panel including, Taylor Peterson, Salma Aboukarr, and Rob Lennon.
We interviewed Remix CEO and Founder, Mike Dougherty to learn about the innovative AI Art social platform.
Join us every Friday at 5 PM EST for the best AI discussion on 𝕏!
You can listen to the full recording here.
---
🖼️ Text-to-Image Generators
Remix
This free mobile app, described as a 'playground for your imagination,' lets you create images using different preset styles.
You can also take inspiration from others' images and give them your own twist.
You have options to select various aspect ratios and styles. Plus, you can enhance your posts by adding music from Spotify or YouTube.
I have way too much fun testing prompts on Remix and checking out posts from several of my friends from 𝕏!
My username is Hbcoop and you can try Remix here.
Below are some examples of what I've created with Remix: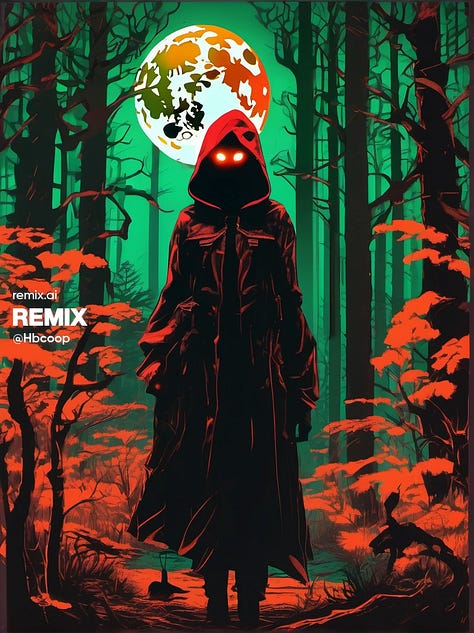 You could have your AI service, tool, or event seen by Visually AI's community of over 6,500 subscribers:
🛠️Cool AI Tools
generaitiv: Generaitiv is an on-chain AI generation platform providing access to 35 AI models and free text-to-image generation. (link)
Storia Lab: AI-powered image generation and editing in your browser or API calls. (link)
Mubert: AI Image or Text to Music generation - I uploaded a cool Inception-styled floating city image, and Mubert created a cinematic music track based on image analysis. Check it out on 𝕏. (link)
Meetups.AI: Discover and chat with customized versions of ChatGPT, with new GPTs added daily. (link)
---
🎁

Get it free:
The AI Visual Creator's Toolkit
Boost your content with my all-in-one, free visual AI toolkit!
Access AI-powered tools for AI-generated images, image editing, and more:
📸
Free Gift
: Realistic Photography Cheat Sheet
Prompt like a pro with easy-to-understand photography terms and example images to guide you as a reference for amazing photorealistic images.
Download your free guide:
Thanks for reading, and have a creative week!