Discover more from Visually AI by Heather Cooper
Your weekly dose of AI news, tools, and innovation with a visual twist. Breaking down barriers to make AI content creation accessible to all.
Over 7,000 subscribers
Total reading time around 6 minutes.
Welcome to Visually AI!
It's been a busy few weeks in the generative AI world, and I couldn't publish an issue last week. Life got in the way, and I apologize.
But there is a lot of news, so here we go!
---
🔮AI News This Week
DALL•E 3 is now available in Bing and ChatGPT for some Plus users.
DALL•E 3 in ChatGPT
ChatGPT Plus users pay monthly for advanced features and early access to others.
Open AI doesn't reveal exactly when each subscriber can expect to see these new tools, and you could get access to DALL•E 3 without getting access to other things, such as Vision - to upload images for ChatGPT to analyze.
ChatGPT Plus users have to wait until it appears in their menu like I did until a couple of days ago when it just appeared:
How does DALL•E 3 in ChatGPT work?
DALL•E 3 in ChatGPT is different from other generators because it literally has ChatGPT.
I've been experimenting for 3 days, and I don't think you can compare it evenly to Midjourney, Leonardo, or DALL•E 3 in Bing.
Why?
You can:
enter a text prompt

ask it to generate your idea

ask it to generate a series of images in a sequence

ask it to be creative and generate something unexpected

change a detail in the previous image or start with a fresh idea.
You can give ChatGPT a prompt to generate, but it doesn't use your prompt - it seems to enhance it and create a new version.
This is an example of a haiku poem I've used as an image prompt in Midjourney, and I asked ChatGPT to generate an image from it.
You can see in the image below that the prompt shown on the right side of the image has more than a short haiku:
This might not matter for most images, but it could be a headache if you need a specific result and not an interpretation of your prompt. But you're not guaranteed to get that result in any generator, and definitely not Midjourney!
How can you use DALL•E 3 in ChatGPT?
You can use your imagination to find uses for image generation within ChatGPT.
I asked for new mockups for my free toolkit:
I asked for images for a Lord of the Rings picture I had recently seen, and then I asked for a different aspect ratio for the same type of image:
---
DALL•E 3 in Bing
You can use DALL•E 3 for free in Bing Chat and Bing Image Creator.
To try it in Bing Chat, I went to the Microsoft home page and typed a question into the chat box:
When you get your image results in Bing Chat, you can click on one of the images to see it closer. That will lead you to Bing Image Creator, where you would normally generate images:
You might have noticed the text on the images - it might not be completely accurate, or accurate at all - but it's legible TEXT!
There is an 'edit' option in Bing Image Creator, and you can do a lot of cool things with your new image using Microsoft Designer.
If you click 'Customize,' you can add tons of things with options available in Designer:
Here is the final design:
---
Is DALL•E 3 better than Midjourney?
I've been asked this question over and over: Is DALL•E 3 better than Midjourney?
I think it depends on what you're looking for in the results. Midjourney is amazingly creative with little effort. DALL•E required more descriptive prompts and the image quality didn't come close to Midjourney.
But DALL•E 3 seems to be catching up - fast!
Comparing DALL•E 3 to Midjourney with Examples
Game of Thrones-style maps of medieval Europe: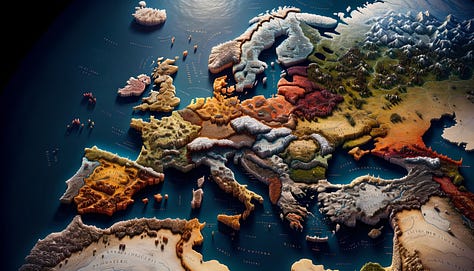 Lord of the Rings-style Elven rings:
Brazilian woman enjoying Carnival:
Pinhole photography:
Spiraling Autumn leaves:
For the last example, I decided to let each generator be creative and compare the results. I asked the same question for each:
"Create stunning images showing double exposure city portraitures with a person's face or upper body"
What do you think? Which one do you like best?
Let me know in the comments - I'd love to hear your thoughts and rationale.
---
Canva's AI Focus
Canva announced a stack of new AI-powered features across all categories of the platform.
Runway partnered with Canva to bring Gen-2 text to video through the Magic Media app. I posted a list of all AI apps available on Canva here.

Magic Expand, Magic Edit, Magic Grab: use AI to expand the image canvas to change size and dimensions and move objects or text to different places on the image. I posted demonstrations here.
I'll write more about potential use cases for Canva's apps and features next week. I use the platform frequently, and I believe it's a great option for anyone, including people who don't have Art or Design experience.
You could have your AI service, tool, or event seen by Visually AI's community of over 6,100 subscribers:
🚀 This Week's AI Tools
Dubbing: Capture the emotion & tone of the original voice. Just upload a clip, choose a language, and get it translated into 1 of 13 languages. (link)
Listen to a short clip from one of my 𝕏 Spaces, translated into Italian:
cloaked: Protect your online identity with automatic email, password, and username generation for any site or app. Currently only available in the U.S. (link)
Anything World: Rig and animate 3D models in a matter of minutes. (link)
Runway Gen-2: Added text to video with enhanced capabilities. (link)
Genmo Replay: Added more patterns to text-to-video FX. (link)
Vispunk: Text-to-video tool generates photorealistic video clips in less than 2 minutes. Download your result as a video or gif. (link)
Storia: Pre-visualize your stories with AI-generated storyboards based on your style selections. Upload your script and choose from Midjourney or Stable Diffusion to generate images in a ready-to-go storyboard. (link)
---
🎁

Get it free:
The AI Visual Creator's Toolkit
Boost your content with my all-in-one, free visual AI toolkit!
Access AI-powered tools for AI-generated images, image editing, and more:
---
I'm excited to announce that I'm an Ambassador for Hive3 - the first competitive generative AI league! Think of it as X-Games for creators, including cash prizes and brand sponsors.
I'll be participating in a Discord Q&A event on Thursday, October 19, at 5 p.m. PST. Stay tuned for more details and links.
Thanks for reading, and have a creative week!
Visually AI by Heather Cooper is a reader-supported publication. To receive new posts and support my work, consider becoming a free or paid subscriber.