Discover more from Visually AI by Heather Cooper
Your weekly dose of AI news, tools, and innovation with a visual twist. Breaking down barriers to make AI content creation accessible to all.
Over 7,000 subscribers
Gen-2 & Midjourney Updates, Plus Text-to-Video Tool Roundup
Tons of AI video tools and links inside
Total reading time is about 6 minutes.
Welcome to Visually AI!
📽️ Art in Motion
Gen-2 Updates and New Features
RunwayML announced updates for the Gen-2 video generation tool to give users more control over video output.
Updates include:
Extend from Asset: extend previously generated clips

History Sidebar: view and scroll through thumbnails of each clip while you work

Advanced Extend Options: change the camera and motion parameters between extended generations
Yesterday, Runway released another update for both text-to-video and image-to-video generation with Gen-2, "bringing major improvements to both the fidelity and consistency of video results."
Runway updated the generative image model with new preset styles and improved output in Image to Image, Text to Image, Erase and Replace, and Infinite Image.
Try the updated features here.
Watch this quick video I made with extended clips from Gen-2 using a text prompt only:
I wrote about camera and motion control features in Gen-2 and Pika with visual demos in a previous edition of Visually AI. Read it here in Generative Art in Motion.
🎬 Text-to-Video Roundup
The list of text-to-video tools continues to grow, with new tools appearing every week.
This is a quick list of available products by category:
AI Tools for Text-to-Video Generation
These tools are used for social media video content, including art, ads, movie trailers, and short films:
AI Tools for Digital Avatars & Voiceovers
The tools in this category can be used to create videos for products, training, customer service, and more:
AI Tools for Script-to-Video Conversion
These tools can be used to convert blog articles, social media posts, and narrated scripts to videos:
Video Editing Tools
These tools can be used to create videos from short clips and images, plus add sounds, text, and special effects. This category is extensive, so I will cover them in depth in a separate article.
This is a short list of popular video editing tools:
Many of these tools have several features for multiple purposes, and they can be used in different categories.
---
🔮AI News This Week
OpenAI Dev Day
OpenAI's DevDay Keynote speech is scheduled for November 6, and we'll be waiting to hear more about ChatGPT Plus users being able to use all modes together instead of Browse with Bing, DALL•E3, and GPT-4 individually, along with any breaking news from the event.
Grok is Here
xAI announced the waitlist opened for the new large language model (LLM) called Grok.
Grok has real-time knowledge of the world "via the 𝕏 platform," and "it will also answer spicy questions that are rejected by most other AI systems."
If nothing else - it will be interesting to see what happens with this new tool, led by Elon Musk and other team members who formerly worked at OpenAI, Microsoft Research, Google Research, Tesla, and DeepMind.
You can sign in with 𝕏 to join xAI's early access program, which is currently limited to verified 𝕏 users only - here.
Midjourney's New Website
Midjourney continues to shift gears with its new beta website - and it's definitely faster.
On the horizon: organization, exploration, and social features are being developed to be rolled out over the next month.
Don't worry - the old website is still around until the new one's fully up and running here.
Check Midjourney's Discord community-updates channel for the latest updates. You can use the new beta site here.
Midjourney's Style Tuner
Midjourney also introduced the Style Tuner to let you make your own style or personality based on your selections from a series of image pairs with different visual directions.
I'll detail this in a future article, but here is a quick summary:
Type /tune and the prompt you want to use for the style.

Choose from 16, 32, 64, or 128 image pairs (more images = more GPU time)

Accept the GPU cost, hit Submit, and wait 1-2 minutes for your tuner.

Open the URL link for your Style Tuner and choose a style from each line if you like it. If you don't like either choice - skip the line and leave it blank.

You can select your choices from a "Two at a time" pair mode on individual lines or an "All together" grid mode.

Copy and paste your code at the bottom of the page and add it to your prompts using "—style [ code ]."
Here is an example of my grid view of direction pairs for a prompt:
Here are some of my results using my new style code:
You can try the style shown above by typing —style 6BG3UPyrRPNn at the end of your prompt or choose your own style with that prompt here.
Try this Style Tuner from the Midjourney user guide for free: https://tuner.midjourney.com/ejYLCOY
Here are a few tips for using the Style Tuner from Midjourney's Discord Channel:
You can generate random style codes via --style random (without a Style Tuner)

You can combine multiple codes via --style code1-code2

You can use --stylize to control the strength of your style code

You can take any style code you see and get the style tuner page for it by putting it at the end of this URL
https://tuner.midjourney.com/code/StyleCodeHere
Using the style tuner URL that someone else made does not cost any fast-hours
(unless you use them for making images with the codes)
You could have your AI service, tool, or event seen by Visually AI's community of over 6,400 subscribers:
Hive3 Competitive League Launches Season One
Hive3 officially launched Season One of the first-ever generative AI competitive league.
What is Hive3?
Hive3 is a new platform centered on connecting generative AI creators with brands to deliver creative marketing assets through a competition-styled environment -with real cash prizes.
It's free to join, and community members get access to experienced creators, tutorials, and collaboration. I'm an Ambassador for Hive3, and I was quoted in VentureBeat, along with my fellow Ambassador, Tatiana Tsiguleva:
"Platforms like Hive3 give creators the opportunity to use new skills with generative AI technology to produce full projects with different tool stacks that mimic real-world activities with a competitive spirit," said Heather Cooper, AI educator and creator, and Hive3 brand ambassador. "I'm excited to join Hive3 as a brand ambassador, and I look forward to helping more creators advance their skills using generative AI."

You don't need experience in marketing, design, or copywriting - anyone can compete, regardless of their background.
Several of the past winners during the beta season challenges were completely new to this type of content creation.
Crumbl Cookie Challenge
The first challenge is underway with Crumbl Cookies! The deadline for submissions is November 7th at 12:00 PM EST.
The challenge is to create four unique Instagram ads to promote Crumbl's products in fun and engaging ways.
Prizes
1st - $2,500

2nd - $1,500

3rd - $1,000
Read about it on Hive3: Crumbl Cookies Challenge
---
Weekly Generative AI Recap 𝕏 Space
We covered several of the latest news topics at my weekly Generative AI Recap 𝕏 Space, with my regular panel including, Matt Wolfe, Taylor Peterson, Salma Aboukarr, and Rob Lennon. Join us every Friday at 5 PM EST for the best AI discussion on 𝕏!
You can listen to the full recording here.
---
🛠️Cool AI Tools
MagickML: Build generative AI tools using low-code and no-code bots in MagickML. Interact live with production agents to enable autonomous-thinking AI agents. (link)
Freeflo: Library of style prompts for Midjourney, DALL•E, Firefly, and ClipDrop. (link)
Segmind: Access the fastest Stable Diffusion image generation API models - try them onsite.
Here are a few I generated in 6-8 seconds with the Copax Timeless SDXL model: (link)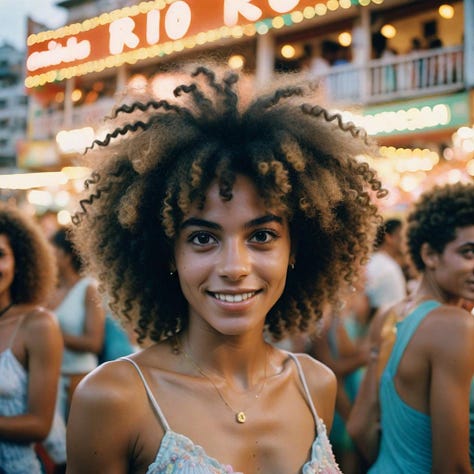 ---
🎁

Get it free:
The AI Visual Creator's Toolkit
Boost your content with my all-in-one, free visual AI toolkit!
Access AI-powered tools for AI-generated images, image editing, and more:
📸
Free Gift
: Realistic Photography Cheat Sheet
Prompt like a pro with easy-to-understand photography terms and example images to guide you as a reference for amazing photorealistic images.
Download your free guide:
Thanks for reading, and have a creative week!