Discover more from Visually AI by Heather Cooper
Your weekly dose of AI news, tools, and innovation with a visual twist. Breaking down barriers to make AI content creation accessible to all.
Over 7,000 subscribers
Total reading time is about 3 minutes.
Welcome to Visually AI!
I'm back home after traveling to Los Angeles for the Artificial Conference, where I got the chance to meet virtual friends in real life! I've often talked to Matt Wolfe and Alie Jules over DMs and a few Zoom calls, but it doesn't compare to seeing them in person.
⏳AI Use Case: Summarizing Complex Documents with GPT Tools
The conference focused on how we can use generative AI to improve daily lives and various sectors in societies around the world.
We talked about real-life use cases for artificial intelligence, including using large language models (LLMs), like ChatGPT or Claude, to explain legal and complex documents.
Claude is free to use in its beta status, and it has an advantage over ChatGPT because it allows you to upload large document files of up to 100k tokens (hundreds of words and pages) for each text prompt.
I uploaded the U.S. Free Application for Federal Financial Aid (FAFSA) to ask for a quick summary of a few key points.
This form is helpful for students and families in the U.S. to apply for financial aid to attend college or universities, and it's a long, complicated document.
I asked for basic information with real-life examples and specific details for students, parents, or guardians. I viewed the summarized information as a helpful way to start with a document like this.
It makes it easier to digest and gather relevant supporting documentation to complete the form and saves time.
You can see the questions I asked and the responses in the video below:
You could have your AI service, tool, or event seen by Visually AI's community of over 5,600 subscribers:
🎨 Favorite Image Prompts This Week
Prompt: A man's face, moon and stars behind him, double exposure, minimalism
Prompt: Fractal art of a [ your subject ] in a [ Optional setting for your subject ], in the style of alcohol ink, mosaic
Example prompt: Fractal art of a futuristic house in a forest in the style of Falling Water, alcohol ink, mosaic, spectacular landscape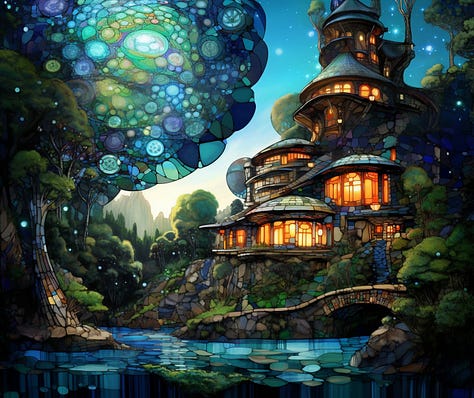 ---
🚀 This Week's AI Tools
Claude: ChatGPT alternative lets you upload long-form documents and input up to 100k tokens (100s of pages) per prompt. (link)
Songburst: Mobile AI music generation app with prompt enhancer, unlimited .wav & .mp3 exports, and you fully own your music. (link)
Narrative BI: GPT-powered tool analyzes marketing & advertising data. Provides customized weekly narratives to boost your growth. (link)
Wavel: AI video dubbing with realistic voices and automatic subtitles. Multiple accents, languages & speech sounds. (link)
Flowjin: AI-generated short video clips for audio or video podcasts, including 𝕏 Spaces. (link)
---
🎁

Get it free:
The AI Visual Creator's Toolkit
Boost your content with my all-in-one, free visual AI toolkit!
Access AI-powered tools for AI-generated images, image editing, and more: